While Joe Biden moves to tighten the masked tyranny of lockdown on Americans, resistance to the 'sanitary dictatorship promoted by the United Nations and its allies is growing all over Europe.
Holland continues to see nightly clashes between an increasingly aggressive police force and residents demanding an end to the unscientific and highly destructive lockdown.
Meanwhile, small-business owners and everyday citizens have been demonstrating across Europe against the re-imposition of strict lockdown measures, with many reopening their businesses despite the rules.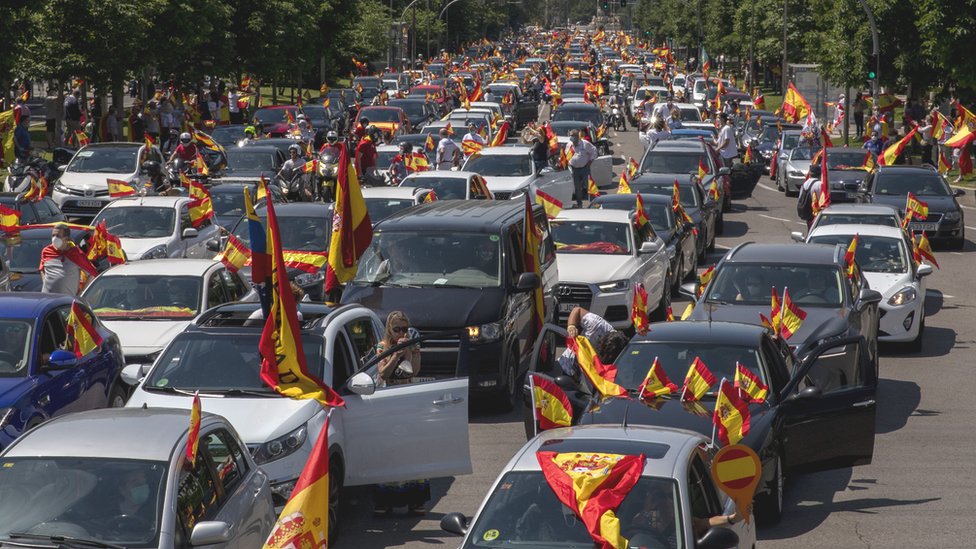 ---
For several years, American patriots have taken comfort from the idea that Donald Trump and a team of good men around him were firmly in control of the situation. Everything happening in the USA was part of a master plan to dupe and trap the Democrats, social media barons, Antifa, etc, etc. Any day now everything would be revealed, and all the men and women in black hats would be rounded up and thrown into jail.
Of course, it was never going to happen. But now at least everyone knows it. Even those who were so keen to believe the Q Anon fairy tales must now see that - as we warned repeatedly - the whole thing lulled millions of patriots into a false sense of security.
So what was Q Anon? Orthodox Christian author and vlogger Roosh V has just published a very interesting and convincing take on the phenomenon
---
With the world's richest men and corporations raking in cash and assets during the World Economic Forum's worldwide plandemic lockdown, you might hope that local police forces would look for opportunities to help the small businesses whose owners pay their salaries. If you did, think again, because a little story out of North Wales gives us a snapshot of how the covidcops view such small businesses and have already slipped into working hand and glove not just with Big Government but also with Big Business. And woe betide the 'little guys'!
---
A new report issued by Assyrian Policy Institute showcases the plight of Assyrian Christians in Iraq struggling to survive as victims caught between Turkey and the terrorist organization PKK. The Kurdistan Workers Party (PKK) operates primarily in southeastern Turkey, northeastern Syria and northern Iraq. As Turkey seeks to combat the PKK, they routinely order airstrikes and ground initiatives well into Iraq's borders. It is here that Assyrians sustain serious attacks as innocent bystanders
---
Some of the angriest protests against lockdown tyranny so far shook Holland at the weekend as police hammered demonstrators and a Covid testing centre was burnt down. Meanwhile, an effigy of the Danish Prime Minister was set alight in the fiery anti-lockdown protests sweeping across Europe. 
The testing facility in the village of Urk in the Netherlands went up in flames on Saturday night. It was completely gutted by the fire. In Denmark, an effigy of Prime Minister Mette Frederiksen was set on fire.
---
Liberal billionaire George Soros was pretty adamant about ensuring that pro-baby-killing candidates were able to get a boost from some of the most extreme abortion groups in the 2020 elections.
---
Planned Parenthood, which aborts over 300,000 children in the U.S. every year, has backed President Joe Biden's plan to mandate mask wearing for the next 100 days, claiming that "we can save" 50,000 lives by doing so.
---
A new 50-minute documentary is calling on individuals to "wake up" and realise the terrifying scale of societal changes which have already been imposed around the world in the name of fighting COVID-19 and what "The Great Reset" planned by international elites will mean for ordinary people.
---
Does the Pfizer vaccine increase the risk of coronavirus infection and death from the COVID-19 disease it is supposed to be helping to avoid? A French retired orthopedic surgeon, Gérard Delépine, who together with his wife Nicole, a retired pediatric oncologist, has devoted a great deal of his time to the study of COVID statistics, believes the link is there.
---
-->